When you decide that you're going to use WordPress to build your website, the first question is "Where do I start?" and "How do I install WordPress?". With many sources to get detailed instructions, such as the WordPress Codex (the home of WordPress knowledge) it can be a bit daunting and off-putting if you're new to this world.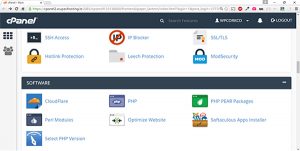 It doesn't need to be hard and if you're using a quality hosting company, such as Wupav Hosting or Blacknight you can take advantage of  their helpful installation tools. These will walk you through the process and install WordPress for you.
If your provider uses cPanel look for "Softaculous App Installer" for the easiest way to complete your WordPress installation.
Some Technical Considerations…
There are a number of different setups available when installing WordPress and you will need to make some decisions before finalising the installation. There are no wrong answers and thinking about the following options in advance will help after your installation is completed…
Linux or Windows:
After you have registered your domain the next question will be "Windows or Linux Hosting?". Most people will go with Windows hosting as it's the one that's more recognisable. From a WordPress point of view the main difference is that WordPress cannot be installed in the root directory of the Windows option. This means that your website will read like yourdomain.com/directory and you will need to redirect it to yourdomain.com. If you decide to go with Linux you will able to install WordPress in the root directory and remove the need to manually create a redirect.
Database Prefix:
Talking about databases and prefixes sounds a bit vague and if you're not familiar with WordPress it'll make no sense. But the answer is simple; When WordPress databases are created on installation they come with a default prefix of "WP" so that they look like "wp-databasefile.php". To help your security and to make it harder for the bad guys to find out about your setup we recommend changing this. The choice is yours, but make it short and memorable, such as jfk-database.php. You can also do this using a security plugin like iThemes Security. Adding this plugin is one of the first things to do after you install WordPress.
Accessing the Admin Area:
Once you have installed WordPress you will be able to log in to the admin area to start modifying and customising your website by opening yourdomain/wp-login.php. Don't forget to change "wp" to the database prefix that you used during the installation. From here your WordPress journey begins.
Manually Install WordPress:
You can also install WordPress manually but this requires a good grasp of using FTP and we recommend that you use the instructions in the WordPress Codex if this is how you want to complete your installation.
If you have any questions on installing WordPress or other WordPress topics we'd love to hear from you. Just Contact Us and we'll point you in the right direction.